Jade Rug Pads

The World's Finest Area Rug Pads
Jad Rug Mats

The World's Finest Area Rug Pads
Jade Rug Pads

The World's Finest Area Rug Pads
Jade Rug Pads
The World's Finest Area Rug Pads
Jad Rug Mats
The World's Finest Area Rug Pads
Jade Rug Pads
The World's Finest Area Rug Pads
Why You Need a Quality Rug Pad
Prevent Wear
A good rug pad will provide cushion between the rug and your hard floors which will help prevent wear - protecting your investment.
Comfort
A well made rug pad is soft, luxurious and resilient, compressing underfoot and bounding right back for your comfort.
Safety
Most importantly, a fine rug pad can prevent accidents by keeping rugs from slipping or buckling - keeping you and your family safe.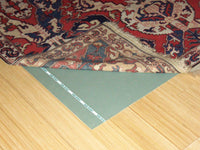 Jade Rug Pads
Jade Industries is committed to providing the highest quality area rug pads at competitive pricing along with uncompromising customer service. Since 1972, Jade Industries has delivered the best area rug pads to customers throughout the country and around the world.
Learn More